A Johnson & Johnson Vision Global Eye Health Survey Uncovered the Truth Behind Why People Don't Get Annual Eye Exams
When it comes to scheduling our preventative health appointments, one of the most often overlooked is our eye exam. At the best of times, people are inclined to think their eye health and sight are just fine and don't require the same level of attention the rest of our bodies may require, but interestingly, it has been proven that eye health is a critical window into our overall sense of health and well-being.
Sight is our most valued sense, allowing us to connect with life's moments—and each other. Now imagine that wonder being taken away from you. Your "eyes are the window to your soul" may not be solely a cliché – there is some truth in that statement: Aside from vision correction, eye exams offer important visibility into other potential healthcare concerns. Not only will they help identify eye health issues like cataracts or macular degeneration, but they can also help detect a wealth of other medical conditions—270, in fact, such as diabetes, heart disease and stroke risk.1
Globally, at least 2.2 billion people have a vision impairment, and of these, at least 1 billion people have a vision impairment that could have been prevented or is yet to be addressed.2 So, why do so many of us overlook the significance of eye exams? The answer is, not surprisingly, varied. Oftentimes, people with vision problems wait until the problem actually exists before going to the doctor,3 and in some cases, you're already too late. That's why Johnson & Johnson Vision conducted a global eye health survey in which we went to the source of the issue, asking respondents their perspective on the significance of eye exams. We learned and want to shed light on the disconnect surrounding patient views towards eye health and how they prioritize it as part of their overall healthcare routine. Despite 80 percent of surveyed adults admitting to knowing an eye exam was "important," less than half (46 percent) said they get an eye exam each year as a result!3
While a comprehensive eye exam is the single-most important step one can take in eye health, the reasons for skipping an annual eye exam ran from respondents thinking their vision hadn't changed (and therefore decreasing their perceived need to see a doctor), to COVID-19 impacting people's comfort levels in seeking out care, plus adults surveyed didn't recognize the potential benefits of vision health including the positive impact on learning and comprehension, even children's development.
Align left
Wide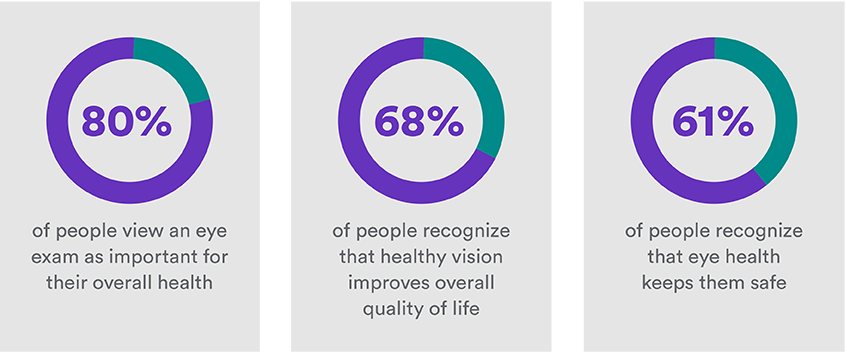 It's in addressing these challenges Johnson & Johnson Vision can work to spotlight the need for deeper awareness and education so patients can more easily make informed decisions. "We are committed to changing the trajectory of eye health worldwide, which starts by addressing the biggest barriers to care—awareness and access," says Shlomi Nachman, Company Group Chairman, Cardiovascular & Specialty Solutions Group and Johnson & Johnson Vision. "This survey has uncovered new insights around how we, as an eye health community, can help people to prioritize their eyes by getting an annual eye exam." The survey, which was conducted online in August 2020 by TRUE Global Intelligence, is part of Johnson & Johnson Vision's Prioritize Your Eyes campaign, a global effort aimed to raise awareness about the importance of eye health while encouraging everyone to get an annual eye exam.
From the moment they open, our eyes connect us: To the expression of joy above a child's laugh, the devotion in the gaze of someone we love, the serenity in a sunrise over the ocean. Every milestone, every emotion, every memory is colored through the gift of sight. Certainly a strong case for taking care of your eye health, starting with an eye exam.
Align left
Wide
References:
1 Systemic Conditions with Ocular and Visual Manifestations. American Optometric Association. December 2019.
2 World report on vision. Geneva: World Health Organization; 2019. License: CC BY-NC-SA 3.0 IGO.
3 Prioritize Your Eyes Global Eye Health Survey. TRUE Global Intelligence. 2020.
PP2020OTH11908
Align left
Wide