As a leader in helping people around the world see better, connect better, live better – Johnson & Johnson Vision understands the value in extending that commitment to ensure it supports the health of the planet as well.
After all, it takes a healthy planet to have healthy people and communities.
Align left
Wide
That's why we're constantly innovating to find sustainable solutions to climate change, recognising its crucial role in helping to protect the planet.
Ahead of World Earth Day, we've made two important changes to the way some products are made and distributed to benefit the planet:
Align left
1) All ACUVUE® brand contact lenses are now made with 100% renewable electricity
Align left
style_medium_alt
– hitting the Johnson & Johnson Vision global climate goal of sourcing 100% of the company's electricity needs from renewable energy two years early.1
Johnson & Johnson Vision has a production site in Limerick, Ireland which is already powered by wind energy and now its headquartered manufacturing site in Jacksonville, Florida has gone live with a new partnership to power it from 100% solar energy.
Align left
2) Johnson & Johnson Vision also removed the plastic pouches placed on the outside of all customer delivery boxes in Europe, saving approximately 10 tons of plastic every year.
Align left
style_medium_alt
With new stickers on the outside, delivery notes will now be placed on the inside of the box alongside the product. Plans are underway to look at extending this initiative globally.
Paulette Frank, Chief Sustainability Officer, Johnson & Johnson: "At Johnson & Johnson, we know healthy people need a healthy planet. That's why we have committed to ambitious company-wide goals to reduce our carbon footprint, and why it's so great to acknowledge today – on Earth Day – the progress we are making across our Johnson & Johnson Vision business."
Align left
Our overall sustainability efforts are focused in three areas: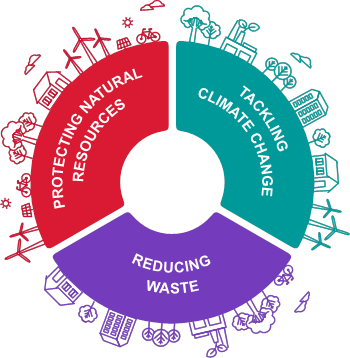 Align center
style_small
1) Reducing carbon footprint
We are committed to achieving carbon neutrality in all their operations by 2030.2 To date we have:
Saved 42,000 tons of CO2 per year through renewable and energy efficiency initiatives, equivalent to removing 9,074 cars from the road*.3
Achieved both certification and recertification of ISO50001 standard for our energy management systems – including policies, targets, improvements and use of data.
2) Preserving natural resources
Protecting the world's natural resources means everything from combatting deforestation ― like sourcing paper packaging from sustainable forestry products ― to reducing water usage and ensuring products don't end up in streams, rivers and oceans. Some of our initiatives include:
Ensuring all ACUVUE® contact lenses come in 100% sustainable paper packaging (box and leaflet) certified by either the Forest Stewardship Council (FSC), Programme for the Endorsement of Forest Certification (PEFC) or Sustainable Forestry Initiative (SFI)†.4
Exploring alternative ways to present and produce leaflets and materials, launching 'Electronic Directions for Use' in markets where they meet regulatory guidelines
Implementing a new packaging design for several surgical vision products which will see a reduction in packaging waste. Once implemented it will be utilized for all future products
3) Waste reduction
Johnson & Johnson Vision is on a mission to limit landfill contribution through recycling efforts and by continuously exploring opportunities to reduce the environmental impact of its packaging. So far, we have already:
Recycle 90% of unused materials from ACUVUE® manufacturing sites5
Introduced new moulding techniques for intraocular lenses (IOLs) which reduces the materials used to produce them
Launched the ACUVUE® contact lens recycling program in the UK, in partnership with TerraCycle, which has seen over 8.5 million contact lenses, blister packs and foils recycled6 – and with a view to exploring ways to extend the scheme to other markets
These are just a few examples of how we are meeting our sustainability commitments. We will continue making progress to ensure a healthier planet for healthier people.
To find out more about our sustainability efforts visit https://www.acuvue.com/sustainability or https://www.jjvision.com/corporate-social-responsibility.
* CO2 savings are based on engineering estimates completed at the time the projects were approved. Equivalency calculation was completed using US EPA's Greenhouse Gas Equivalencies Calculator. https://www.epa.gov/energy/greenhouse-gas-equivalencies-calculator
† Programme for the Endorsement of Forest Certification; SFI® - Sustainable Forestry Initiative®; FSC® - Forest Stewardship Council®
1 Visit: https://www.jjvision.com/press-release/johnson-johnson-vision-reinforces-sustainability-commitment
2 Visit https://www.jnj.com/global-environmental-health/climate-and-energy
3 JJV Data on File 2021. Data Substantiation for Energy Efficiency and Renewable Energy Projects at US and Ireland ACUVUE® Contact Lens Manufacturing Facilities
4 JJV Data on File 2021. Data Substantiation for Paper Packaging Certification Claim
5 JJV Data on File 2021. Data Substantiation for ACUVUE® Manufacturing Recycled Materials Claim
6 Visit: https://www.terracycle.com/en-GB/brigades/acuvue
PP2022AMB4821
Align left