Johnson & Johnson's Bridge to Employment Brings Hope to Local Irvine Students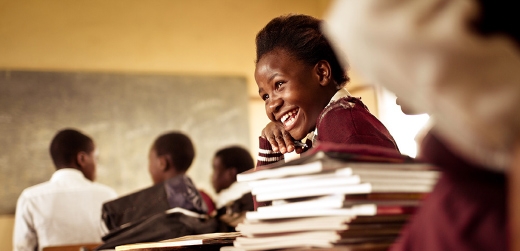 Mentorship can have a powerful impact on the trajectory of a career. Johnson & Johnson's Bridge to Employment program gives talented high school seniors the opportunity to explore careers in healthcare and engineering like never before. Recently, the Irvine, California campus welcomed over 20 Valley high schoolers to network with associates and learn about a variety of opportunities within the company.
"I came to the United States with $2 in my pocket," remarked Martin Lopez, Johnson & Johnson Business Technology Leader, Global Surgical Vision and Vision R&D. Today, Lopez is the Executive Sponsor of J&J Irvine's Bridge to Employment (BTE) program that mentors high schoolers about careers in health and technology. Many of the students that the BTE program serves are immigrants or first-generation Americans, a segment of the population Argentinian-born Lopez feels especially drawn to support. "Anything we can do to help the students navigate and integrate is fantastic," he commented, "from offering hope and showing them this country is welcoming to them, to providing them tools to help them be successful."
On August 4, Johnson & Johnson Vision (JJV) invited over 30 students from Valley High School to spend a day at their Irvine campus to connect with associates from across the organization. The event celebrated the near completion of the program's second year and the growth that many of the students have experienced along the way. BTE Irvine program co-founder, Shelby Schemerhorn, Senior Manager, Global Strategic Marketing, JJV, remarked, "As a high school student, I was a part of an outreach program that afforded me many opportunities and I credit this program with preparing me to be a first-generation college student. I have seen first-hand the impact these types of programs can have on students."
Changing the Course of Careers
The day was filled with a variety of opportunities for students to connect, learn, and grow with the guidance of JJV's BTE volunteers. Five of the students, who had been awarded Fellowship positions, gave presentations on what they were looking for in a a career, and how the BTE program helped them to discover new opportunities for their futures. One student shared how they may have never discovered their interest in engineering had it not been for the BTE program.
Students also participated in a "fireside chat" with JJV executives, all of whom had immigrated to the United States. The once-shy students who hadn't turned their video cameras on during earlier BTE Zoom sessions now spoke up with confidence, asking questions about how to select a college to attend and tips for writing application essays.
But the real highlight of the event was the speed networking sessions. During the second half of the day, the students were able to sit down one-on-one with JJV employees to ask questions about their path toward a career at J&J.
"When I saw how engaged the students were, it really made me think that we have created something valuable for them. Not just a PowerPoint or fun activity, but the chance to have a real conversation with someone who may have a job they are working towards," shared David Ebel, Technical Product Manager, Customer Engagement, "those kinds of connections stay with people and make something that can seem far off, like a career in health care or technology, feel real."
Volunteer, Paymaneh Malihi, JJV Global Strategic Marketing Manager, echoed Ebel's sentiment, "when you are planning a day like this for a group of high schoolers, you wish for it to be fun and engaging. I think we achieved both!"
Celebrating 30 Years of Bridge to Employment Success
The BTE program was established by Johnson & Johnson in 1992 with the goal of inspiring young people from disadvantaged communities to stay in school, excel academically, and elevate their career aspirations. Now celebrating its 30th year, the BTE program has engaged youth in over 70 self-sustaining corporate-funded sites in Africa, Europe, Asia, Latin America, and the United States. More than 400 Johnson & Johnson employees have actively volunteered their time to the program, contributing over 4,000 hours per year to coach and supervise students.
The BTE Irvine campus program was started by JJV associates, Schemerhorn and Nathan Soto, JJV Manager, Post-Market Compliance in 2020. In only two years, Irvine has been ranked among the highest BTE programs (as part of the Orange County BTE cohort), based on an external review of the BTE programs globally. Lopez attributes this local success to two factors: the motivation level of the students and the passion of JJV's volunteers. "Students can't always take advantage of the opportunities presented to them," Lopez commented, "but these students are hungry for them."
The success of the program speaks for itself. BTE program students on average achieve an entire letter grade higher than their non-BTE peers across school subjects. Additionally, BTE students have statistically demonstrated a higher acceptance rate than their non-BTE peers when applying to college and other post-high school programs. Soto shared, "This is truly a testament to our employees' efforts and local partnerships with UC Irvine and High School Inc."
Looking Toward the Future
Giving back to the community is an inherent part of J&J's corporate culture. In fact, J&J Vision's Credo states that they have a responsibility to the community in which they live and work. Through his work as BTE's Executive Sponsor, Lopez has found a lot of satisfaction, purpose, and pride in helping others. "You feel better yourself, but you're also making a difference in helping other people feel better." Lopez hopes that more executives and corporate employees across all sectors of business will rise to the challenge of investing in meaningful ways in the next generation.
For now, the committed JJV volunteers are reflecting on the powerful impact of the August 4th event, while planning for the future direction of the program and new ways to support the students.
Malihi shared, "I walked away from the event feeling proud of our BTE core team as well as our JJV colleagues who volunteered their time and were ready to jump on board to help plan a fun and exciting day for the BTE students. I was happily surprised to see how easy it was to rally folks for different events of the day. And our team got really creative with the activities they planned too. Overall, proud to be part of JJV and look forward to contributing to future events."
For more information on the Johnson & Johnson Bridge to Employment program visit Bridge2Employment.org.